All Posts
New Ballet Receives $85,000 Grant from the Hearst Foundations to Expand Pathways Program
It is with great appreciation and enthusiasm that New Ballet Ensemble & School announces a grant of $85,000 from The Hearst Foundations of New York to support the Pathways Program, which provides dance training for students in low-income neighborhoods. This funding will be used for student recruitment, student training, and professional development for the Teaching and Performing Artists who deliver the program.
New Ballet's Pathways Program began in Orange Mound through a partnership with Dunbar Elementary in 2007 in which free training was provided to students who were then recruited into the studio program in Cooper-Young. New Ballet also launched Dunbar's Family Resource Center in order to connect Orange Mound residents to social services, workforce opportunities, and more. In the years since the founding of the Pathways Program, New Ballet has trained and enriched hundreds of students, including some who have returned to their communities to instruct in the same program. These students have had professional performance opportunities, including a performance at the Kennedy Center in Washington DC, as well as performances alongside Yo-Yo Ma and the Memphis Symphony Orchestra. Many of these students have also achieved college admissions on scholarship to top universities throughout the country, such as Vanderbilt. In addition to Dunbar Elementary, New Ballet's Pathways Program is currently operating in six Title 1 schools in the Shelby County District, including LaRose Elementary, Sherwood Middle School, and Booker T. Washington High School.
"As we move forward with programming that shapes the lives of young creatives, we welcome this support and the endorsement of The Hearst Foundations to grow in scale and scope. Bringing students together with free programming to be placed on a trajectory towards college and career is a community imperative," says Deborah Northcross, Board Chair, New Ballet Ensemble and School.
In addition to providing funding for the Pathways Program, The Hearst Foundations will support New Ballet's newest in-school production, ¡José!, which is based on the life and work of the great modern dance master José Limón. Limón emigrated with his family from Mexico as a child to become one of the most prolific modern dance choreographers of the twentieth century. "His story is one of overcoming obstacles, including war, bullying, language barriers and illness. It was affirming to see the reaction from our first audience at Kingsbury Elementary," says Katie Smythe, Founding CEO and Artistic Director, New Ballet Ensemble and School. ¡José! will be touring in schools throughout Memphis, such as Treadwell and LaRose Elementary, as well as a Black Box Double Feature at the Germantown Performing Arts Center (GPAC) in March. This dance theater piece was created by Mark Allan Davis and directed Noelia Garcia Carmona, and includes a curriculum for classroom teachers to utilize before and after the performance.
New Ballet Ensemble and School's mission is to provide a professional standard of dance training to students from diverse backgrounds, regardless of ability to pay. This mission is executed by providing equitable access to rigorous training, professional performance experiences, and holistic support through mentoring, tutoring, and college and career preparation. Students are trained in classical ballet, integrated with other culturally authentic forms of dance including West African, Flamenco, Modern, Hip-Hop, and Tap. The annual Nut Remix performance demonstrates the outcome of this exposure and cross-cultural training, reimagining the traditional "Nutcracker" to paint a picture of cultural harmony and unity here in Memphis. Since its founding in 2001, New Ballet has evolved into a creative youth development organization that helps move talented young people toward success.
"We are pleased to welcome New Ballet Ensemble & School as a new partner of the Foundations and wish the program much continued success. New Ballet is a community asset that's making a wise, tenacious, and embracing commitment to the present and future of the city's young people," said Mason Granger, Director of Grants, The Hearst Foundations.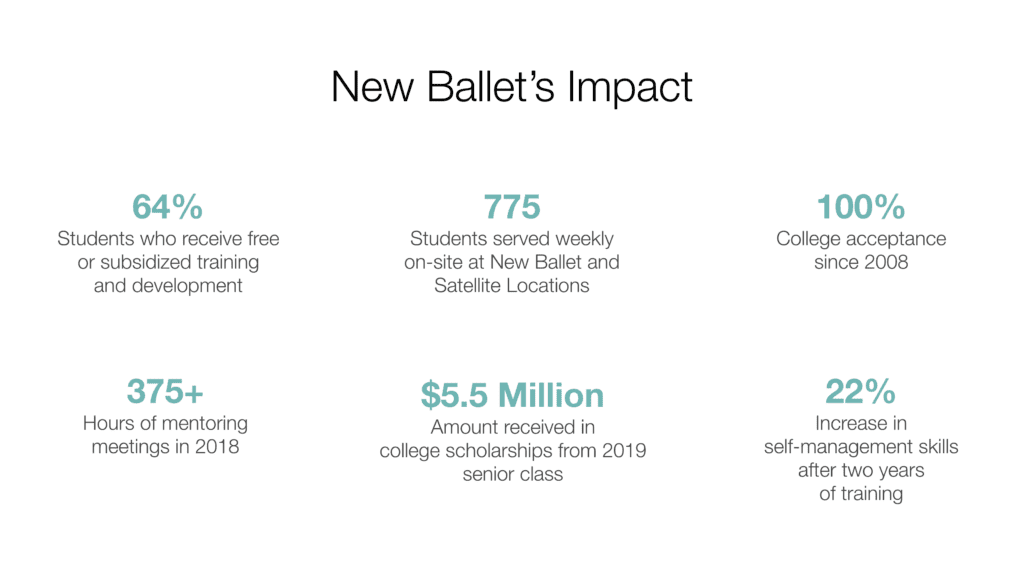 Posted by Alena Thayer at January 15, 2020