New Ballet provides a family environment with access to high-quality dance training, whole child development, and innovative performance opportunities. From training to performance and everything in between, each child who steps through our doors experiences a unique opportunity that enriches their early years and remains with them throughout their lives.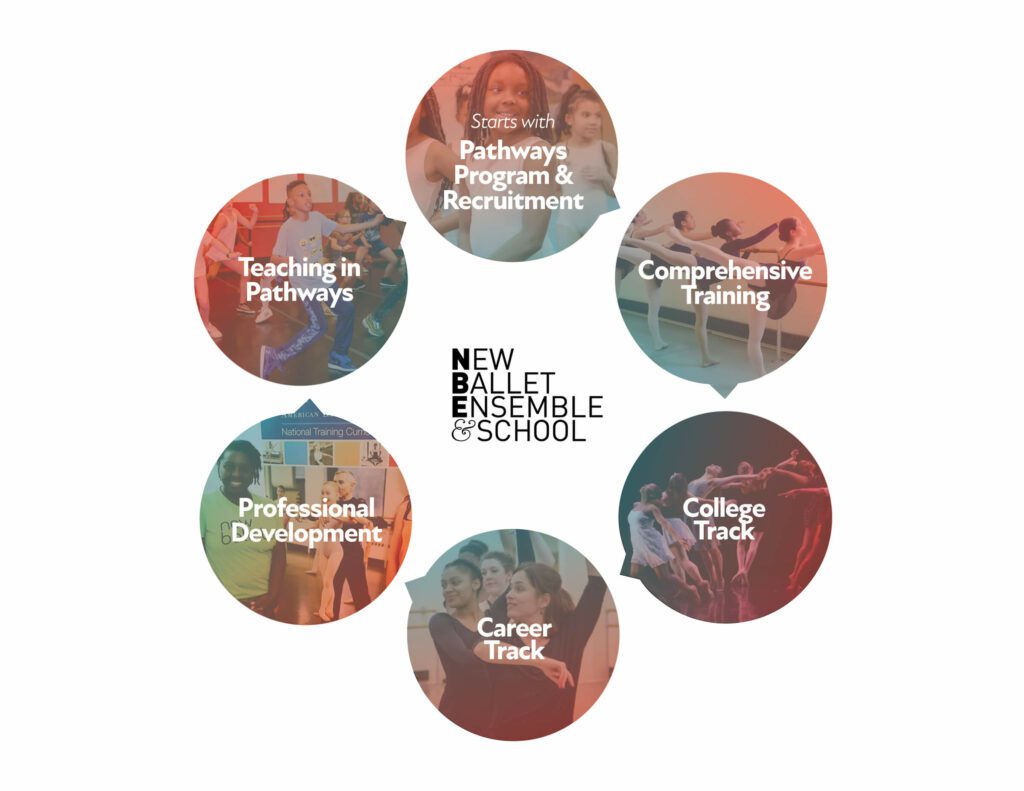 High Quality Dance Training
All dance classes at New Ballet are centered around a professional standard of training. New Ballet teaching artists are trained in nationally recognized dance teacher programs. Students learn directly from our roster of dedicated instructors working and living in Memphis, including internationally renowned dance professionals. In addition to weekly classes, New Ballet regularly invites master teachers to amplify students' training and technique by leading classes and choreographing challenging works.
Whole Child Development
Equity demands more than just free tuition, and whole child development is essential to the growth of the artist. New Ballet offers access to academic support, mentoring opportunities, mental wellness services, and Creative Youth Development. By holistically supporting our students, we provide an environment that bolsters their critical thinking skills and self-confidence. As students grow, they take on leadership roles, using what they have learned to guide younger students.
Innovative Performances
Our repertoire includes the recreation of original "story ballets", making them more relatable to today. Inserting their creative input and life experiences directly, students perform socially and culturally relevant recreations that fuse dance and music forms with a uniquely Memphis twist. New Ballet repertoire has been built on the ideas and contributions of an array of student and teaching artists as well as guest choreographers who return year over year with knowledge of the organizational culture. New artists contribute new ideas, and so on!
Many New Ballet students are immersed in diverse dance genres, contributing to the versatility onstage. As dancers grow through the program, they perform in a variety of our annual productions, including the large-scale NutRemix™ at the Cannon Center for the Performing Arts. Springloaded and Summerdance, the final showcase of Summer Intensive, are performed in partner venues such as The Buckman Performing and Fine Arts Center at St. Mary's Episcopal School, Germantown Performing Arts Center, and The Halloran Centre at the Orpheum Theatre. All students perform in Family Night at the Overton Park Shell each May.
Outside of our large annual productions, a corps of students have performed with Opera Memphis at the Midtown Opera Festival and through 30 Days of Opera, the Memphis Symphony Orchestra in Memphis Renaissance at the Overton Park Shell and in productions at Hattiloo Theatre. New Ballet student and teaching artists have also performed a commissioned work, Harlem, in Washington, D.C. at The John F. Kennedy Center for the Performing Arts with the National Symphony Orchestra.