Our impact is best demonstrated by the multiple outcomes of our work in Memphis Shelby County Schools since 2008, now known as the Pathways Program. One example is the National Arts and Humanities Youth Program Award, granted to New Ballet in 2014 for being one of twelve organizations nationwide "who, in their excellence, inspire young people to develop their unique talents and build skills for a successful future" – Rachel Goslings, Executive Director, President's Committee on the Arts and the Humanities, and Jane Chu, Chairman National Endowment for the Arts.
New Ballet students thrive as dancers, scholars and leaders, ready for postsecondary education or careers. To support their success, we also work with students and their families to provide individualized support and wraparound services. This is central to our mission because we believe that every child possesses inherent strengths and has the right to meet their full potential. Graduates of the Pathways and New Ballet studio are now employed as teaching artists who return to these schools to continue the work.
When a student graduates from high school, New Ballet remains a homebase, and some dancers choose to prepare for careers as professional teaching artists and performers right here at home. The Professional Teaching and Performing Artist Apprenticeship program expands the knowledge of pedagogy, prepares dancers for professional performance opportunities, elevates their creativity, and sets them on a course to become future leaders.
100%
Progressed to college or career since 2003
400+
Dance students served weekly
120
Hours logged by mentors
100%
Professional development funding for teaching artists
6
Shelby County School Pathways partners (weekly training throughout the year)
44%
Scholarships given to students in our studio program
Dance for all
New Ballet reaches thousands of youth annually through Pathways K-12 Residencies and in-school performances and workshops. These weekly lessons are designed to inspire students as they explore their creativity through dance while learning about how they move through the world. They may even aspire to dance intensively as a springboard to the future!
13K
Shelby County Schools students reached annually
100%
of Pathways students receive free training and development
$94K
Allocated for scholarships in the 2019-2020 academic year
Mapping our arts education involvement through multiple school partnerships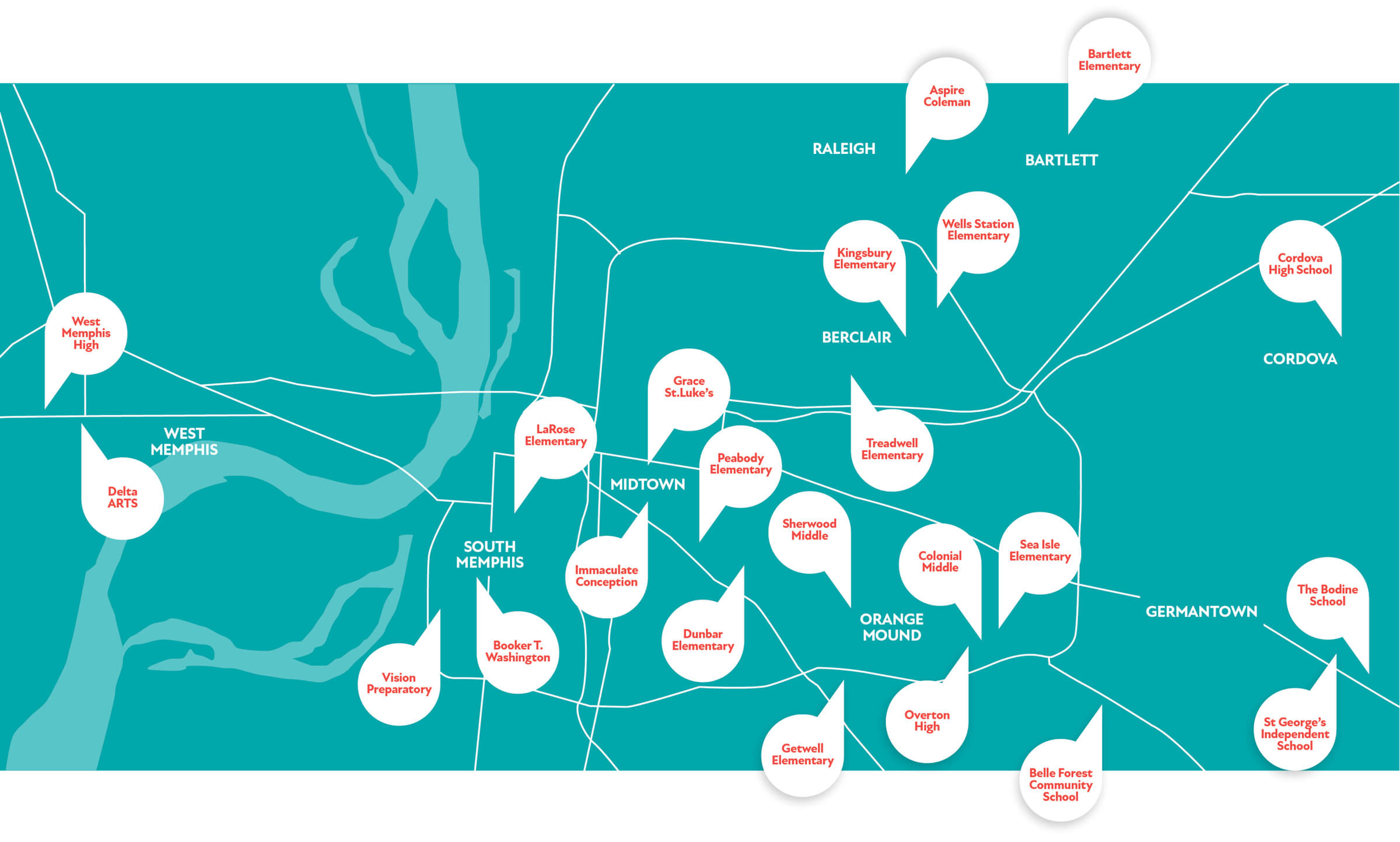 A professional standard of training
New Ballet student dancers receive comprehensive dance training, emphasizing mastery of techniques in various dance forms. They're challenged to explore and drive their development and artistic growth, and we encourage them to become creative citizens of the world. Through exceptional training and major performances, our students' experiences reflect a professional standard, setting them on a course for success in college and beyond.
15
hours per week of pre-professional training
10
guest master teachers visiting New Ballet annually
5000+
audience members attend annual student performances
New Ballet Ensemble & School operations are supported by generous community partners, donors and grantors. We are deeply grateful for these advocates who believe in our mission to provide a professional standard of training to children and youth. Join our ever-growing list of supportive organizations and learn how your organization or foundation can support New Ballet.